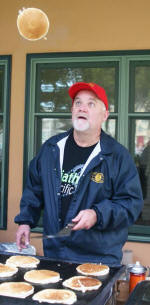 2023 Calendar of Events
January
| | | | |
| --- | --- | --- | --- |
| Wednesday | Jan 4 | Breakfast Meeting | First Awakenings Restaurant |
| Wednesday | Jan 18 | Breakfast Meeting | First Awakenings Restaurant |
February
| | | | |
| --- | --- | --- | --- |
| Wednesday | Feb 1 | Breakfast Meeting | First Awakenings Restaurant |
| Wednesday | Feb 15 | Breakfast Meeting | First Awakenings Restaurant |
March
| | | | |
| --- | --- | --- | --- |
| Wednesday | Mar 1 | Breakfast Meeting | First Awakenings Restaurant |
| Saturday | Mar 4 | Pony Baseball Opening Day pancake breakfast | Muni Park |
| Wednesday | Mar 15 | Breakfast Meeting | First Awakenings Restaurant |
April
| | | | |
| --- | --- | --- | --- |
| Wednesday | Apr 5 | Breakfast Meeting | First Awakenings Restaurant |
| Wednesday | Apr 19 | Breakfast Meeting | First Awakenings Restaurant |
| Thursday | Apr 20 | Military Families Pancake Breakfast | First Awakenings Restaurant |
| Sunday | April 23 | Big Sur Marathon transportation volunteer | Rio Road & Highway One |
May
| | | | |
| --- | --- | --- | --- |
| Wednesday | May 3 | Breakfast Meeting | First Awakenings Restaurant |
| Saturday | May 6 | Pancake Breakfast and Good Old Days Ragtime Program | Jewel Park |
| Wednesday | May 17 | Breakfast Meeting | First Awakenings Restaurant |
| Tuesday | May 23 | Pancake Breakfast for 2023 PG High Senior Class | PG High School |
June
| | | | |
| --- | --- | --- | --- |
| Wednesday | Jun 7 | Breakfast Meeting | First Awakenings Restaurant |
| Wednesday | Jun 21 | Breakfast Meeting | First Awakenings Restaurant |
July
| | | | |
| --- | --- | --- | --- |
| Wednesday | Jul 5 | Breakfast Meeting | First Awakenings Restaurant |
| Wednesday | Jul 19 | Breakfast Meeting | First Awakenings Restaurant |
August
| | | | |
| --- | --- | --- | --- |
| Tuesday | Aug 1 | Welcome Back! Returning PG Unified School District Staff pancake breakfast | Community Center |
| Wednesday | Aug 2 | Breakfast Meeting | First Awakenings Restaurant |
| Saturday | Aug 5 | Youth Center pancake breakfast | Pacific Grove Youth Center |
| Wednesday | Aug 16 | Breakfast Meeting | First Awakenings Restaurant |
September
| | | | |
| --- | --- | --- | --- |
| Wednesday | Sep 6 | Breakfast Meeting | First Awakenings Restaurant |
| Wednesday | Sep 20 | Breakfast Meeting | First Awakenings Restaurant |
October
Wednesday
Oct 4
Breakfast Meeting
First Awakenings Restaurant
Saturday
Oct 8
Butterfly Days Pancake Breakfast
Croquet Tournament
Caledonia Park
Wednesday
Oct 18
Breakfast Meeting
First Awakenings Restaurant
Thursday
Oct 19
PGHS Football pancake dinner
Youth Center
Saturday
Oct 21
Hole-in-One Contest
Pacific Grove Golf Links
November
| | | | |
| --- | --- | --- | --- |
| Wednesday | Nov 1 | Breakfast Meeting | First Awakenings Restaurant |
| Saturday | Nov 11 | Pacific Grove Lighthouse 5k/By-the-Bay 3k pancake breakfast for Cub Pack 126 | Lover's Point |
| Sunday | Nov 12 | Monterey Bay Half Marathon parking control | MPC |
| Wednesday | Nov 15 | Breakfast Meeting | First Awakenings Restaurant |
November/December
December
| | | | |
| --- | --- | --- | --- |
| Wednesday | Dec 6 | Breakfast Meeting | First Awakenings Restaurant |
| Friday | Dec 15 | Wrap Party for Santa Project | Monterey High School |
| Wednesday | Dec 20 | Breakfast Meeting | First Awakenings Restaurant |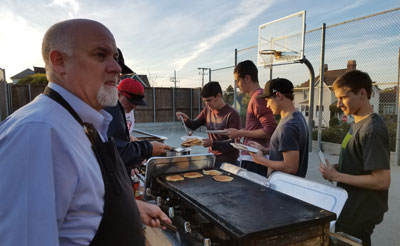 Kiwanis is proud to be working with the local fire departments to provide toys to boys and girls. We are seeking your assistance in bringing the Christmas spirit to the less fortunate! Your donated toys will be delivered to children by the Monterey/Pacific Grove/Carmel Fire Department.
Toys must be brand new and unwrapped.
Toy collection barrels may be found at the following locations:
Schools

|

Fire Stations

|

Local Merchants

Robert H Down Elementary School
|
Carmel Fire Station
|
First Awakenings
Forest Grove Elementary School
|
Monterey Fire Station No. 1
|
Grand Avenue Flooring
P.G. Middle School
|
Monterey Fire Station No. 2
|
P.G. Cleaners
P.G High School
|
Monterey Fire Station No. 3
|
P.G. Travel
P.G. Adult School
|
P. G. Fire Station
|
Paul's Drapery

Community Services

Pebble Beach Community Service District
|
PG Tourist Information Center
|
Meeting Speakers
We welcome guest speakers. Please contact us to schedule a speaking engagement.
For more information, please contact: Sherry Sands (831) 372-4421